San Diego Commercial Chimney Inspections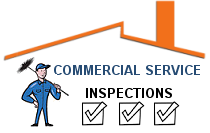 Kleen Sweep provides commercial chimney inspections for San Diego Property Management Companies, Home Owner Associations , Real Estate Agents, Brokers, and San Diego home owners.  We are certified by the Chimney Safety Institute of America to provide professional Level 1 and Level 2 fireplace chimney inspections.
We will also provide fireplace chimney cleaning and repairs if needed based on the results of the chimney inspection. » Free consultation and estimate
CSIA: Chimney Inspections Explained
---
Commercial Chimney Service – San Diego County
Property Management Companies
Property managers are responsible for a wide array of maintenance and repairs including fireplace chimney inspections, cleaning, and repair. Kleen Sweep is ready to assist you in year round commercial chimney inspections and maintenance that will give you peace of mind when it comes to protecting your property and tenants from the danger of chimney fires and carbon monoxide. Please call us. We are here to help you. » Free consultation and estimate.
Home Owner Associations
We provide chimney safety inspections and repairs that are required by Home Owner Associations (HOA) for condominium complexes and rental properties throughout San Diego. For safety and liability reasons insurance companies require that a rental unit have an annual fireplace chimney inspection, and repairs if needed.  The HOA has a written responsibility to inform owners / renters and to schedule periodic fireplace chimney inspections / repairs.
Real Estate Agents and Brokers
Kleen Sweep has worked with many San Diego real estate professionals providing them with commercial chimney inspection reports on behalf of their clients during a home sale or purchase prior to the close of escrow. We also perform fireplace chimney repairs if needed. To schedule your real estate inspection today, please give us a call at 619 460-6882.
Home Owners
Kleen Sweep provides year-round chimney inspections for San Diego home owners including Level 2 inspections required when you plan to sell your home. Yes, a Level 2 inspection is required for a sale or transfer of a property or following an event that has damaged a chimney (such as a fire or a seismic event). The buyer usually pays for the inspection, but a seller may want to have his chimney cleaned and inspected prior to putting the property on the market, as an incentive for the buyer. On the other hand a buyer may want to use the chimney inspection report as part of the negotiation process if the inspection report has revealed any chimney problems. Please call us if you have any questions or would like us to work with your real estate agent or broker.