We service all major brands of Wood Burning Stoves
Inspection • Cleaning • Part Replacement
Expert Trouble Shooting • Diagnostic Report
We will thoroughly clean out exhaust pipes and venting to the outside air.
GUARANTEED RESULTS
Having smoking problems or performance issues with your Wood Stove ?  We can diagnose the problem and offer you a cost effective solution. Call us today!
---
To keep your wood- or pellet-burning system operating efficiently and safely, you'll need to maintain it on a regular basis. Every year, preferably before each heating season, have a chimney sweep certified by the Chimney Safety Institute of America inspect your wood-burning system. In addition to cleaning the chimney, a certified chimney sweep should have the knowledge to help make sure your appliance, hearth, connecting pipe, air inlets, chimney, and all other components are functioning efficiently and safely. » more info ENERGY.GOV
Wood Stoves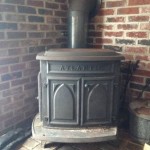 A wood-burning stove is a heating appliance capable of burning wood fuel and wood-derived biomass fuel, such as wood pellets. Generally the appliance consists of a solid metal (usually cast iron or steel) closed fire chamber, a fire brick base and an adjustable air control. The appliance will be connected by ventilating stove pipes to a suitable chimney or flue, which will fill with hot combustion gases once the fuel is ignited. The chimney or flue gases must be hotter than the outside temperature to ensure combustion gases are drawn out of the fire chamber and up the chimney. Many wood-burning stoves are engineered such that they can be converted to multi-fuel stoves with the addition of a grate. » more info
Introduction to Wood Stoves
Wood Stove Maintenance
Wood Stove Safety
If you're among the thousands who have succumbed to the lure of the wood burning stove, keep in mind that the return to the "good old days" of wood stove heating can have some old-fashioned drawbacks.Fire hazard is one of them.The resurgence of the wood burner as a supplementary source of heat has led to an alarming—and growing—number of fires traceable to careless installation or misuse.
Before the heating season each year have your chimney and stove pipe carefully inspected and cleaned. Make any needed repairs. More frequent checks are advisable if you are building up combustible creosote and soot. Think twice before trying to clean your own chimney! You may damage your chimney lining or stove pipe creating a potential fire hazard that may cost you thousands of dollars or even result in the destruction of your home! Always hire a professional wood stove cleaning service.
Wood Stove Service

If your stove is not working properly and appears to be less efficient the good news is that a full service cleaning and inspection will most likely resolve those performance issues. It is recommended that your wood burning stove be professionally cleaned twice a year.
Call us today to schedule an appointment.
619 460-6882
Wood-burning Stove Manufacturers:


Our favorite!  Regency Wood Stoves
With Regency you can add a classically styled wood stove in small, medium or large sizes that will heat your favorite living spaces with renewable, clean burning and efficient heat. Save money on your heating bill…and get back to basics with a beautiful Regency wood stove. There is nothing like a wood fire. All Regency wood stoves are EPA certified.
More Wood Stove Manufacturers: